Global Video Conferencing market is expected to $20 billion by 2024
By Editorial Team | | November 20, 2018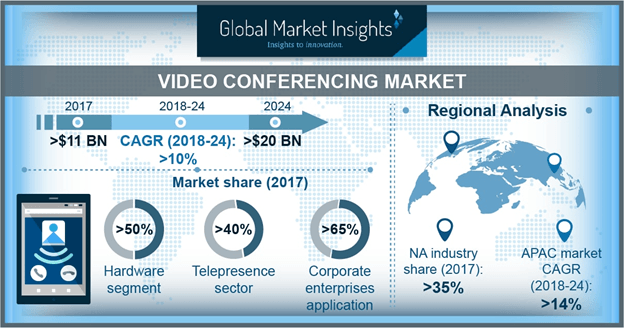 According to a report from Global Market Insights, Inc the Video Conferencing Market is expected to reach USD 20 billion by 2024;
The hardware accounted for over 50% of the video conferencing market in 2017. Hardware market includes the Multipoint Control Unit (MCU), codecs, and peripheral devices. The video conferencing industry growth is credited to the high adoption of MCUs among enterprises due to the increasing need for high interoperable video conferencing systems.
On the other hand, the software segment in video conferencing market is anticipated to grow at a CAGR of 14% over the projected time frame. The growing demand for cloud-based video conferencing solutions and mobile applications among the corporates is driving the market.
Moreover, the benefits offered by the cloud models, such as cost-effectiveness, flexibility, and scalability, also augment the demand for the cloud software.