Do Face 2 Face "Video Banking" with RankTech's State of the art Technology!
By Sutanwi Ghosh | Video Banking,Video Branch, | February 7, 2019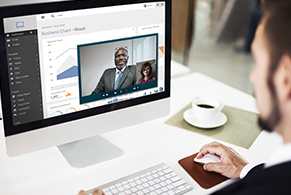 With the dynamic wave, technological advancements taking over a plethora of industries, banks, and financial institutes face several challenges to keep up with the pace of digital transformation and meet the unpredictable customer expectations. Traditional business models will soon topple down and the key to sustain the era of metamorphosis lies with Innovation and change. Let's see the top critical issues which banks are facing today.
Banks and financial institutions still are not making enough return on investment, despite all of the headlines about banking profitability, or the return on equity, that shareholders require.
These days it's all about the customer expectations, and many banks are feeling pressure because they are not delivering the level of service that consumers are demanding, especially in regards to technology.
There is also increasing competition from financial technology companies. which is disrupting the way traditional banking has been done. This creates a big challenge for traditional banks because they are not able to adjust quickly to the changes – not just in technology, but also in operations, culture, and other facets of the industry.
This is the era of Metamorphosis. Let Rank's Video Branch and Video Banking Let us be your digital catalyst to Transform Customer Acquisition and bring instant Onboarding, Enhance Customer Service, helping you not only in Customer retention but also expansion in untapped areas – making operations sharper and smarter, resulting in Customer Delight every time– And all of it happening super-fast while also bringing down Cost of Operations.
Let's talk about RankTech's smart Face to Face KuberVideo Banking–
Mobile video banking is enjoying rapid uptake, broad appeal, and high satisfaction scores. And considering the efficiency gains that can be realized on the service side, it's no surprise more financial institutions are planning to adopt video banking solutions. No more customer-walk ins or standing in ques.KuberVideo Banking Platform – is the technology that has transformed customer experience by enabling to do banking Face 2 Face with your bank executives from anywhere around the world without having to visit your branch.
RankTech has harnessed emerging Unified communications technologies to deliver world's first digital video banking solutions by leveraging advanced technologies such as Intelligent call routing, SVC Video, Internet, VOIP, Mobility, GPS, email, text chat, etc. With Kuber, you get to reduce Turn Around Time, Time to Settle Grievances, and Time toCash, and expand your reach and capacity as everything happens super-fast on our Face Face digital platform blended with video. So, let's see how Kuber works for you and your customer–
Now getting deeper into the KuberVideo Banking mechanism – Let's say, a person is very busy at work, but he needs to visit a bank immediately. His boss won't allow him to leave and this is important to him. How to deal with such tricky situations?
It's simple! With Kuber seamlessly integrated with a bank's website or application, all that your customer needs to do is make a few quick finger-clicks on the Video call button, select the department or service required, and with Rank's Intelligent call routing, get connected super-fast to the required department subject matter expert on the banking frontier. And all this in the first call itself with negligible waiting time!
On submission by your customer, you can schedule a call between them and the verification department, at a future date or time for authenticating the KYC submitted by them previously during the process. Let's see how. A URL link is mailed or sent by SMS to the customer, clicking on which the customer and the bank employee gets automatically joined to the call at the pre-fixed future time. Here, you can ask the customer to hold his Address or ID proof in front of the cam, take a snapshot of it, and with Kuber's Optical Character Reader, the face-snapshot of your customer clicked by you then, and the details provided by him before is matched and at once authenticated – And all these processes and video communication can be recorded, documents fetched and stored in your CRM system! – So Voila! All your Banking Operations is holistically taken care of through Video Branches powered by Rank's Kuber Face 2 Face Video Banking platform.
Every process intimation is provided to the customer to their email, through SMS, app notification etc with the help of our Unified communications technology embedded in the system. So everything lies in sync!
Kuber Video Banking is a win-win! Connecting your happy employees with your happier customers! Let your customer do "Anytime Anywhere Face to Face Banking through Video Branches without going to a physical bank".